Scholarships
Finding Scholarships with Bold.org
Learn what bold.org is, what sets it apart from other online scholarship platforms, how it got started, how students can apply for scholarships, and how students have been successful in the past.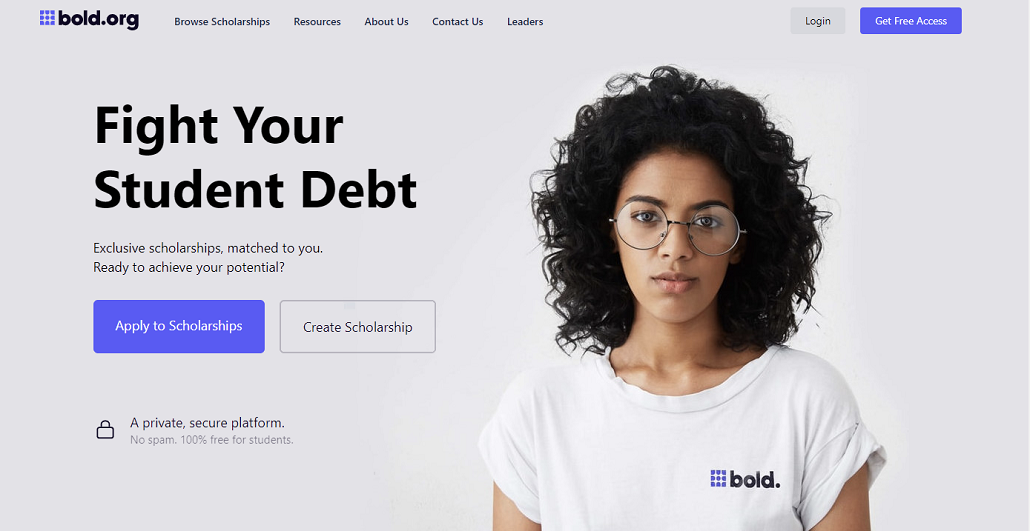 Interested in attending college? If so, you'll want to apply for scholarships as early as possible. Scholarships can make a significant impact in helping cover college costs. Various community organizations, foundations, non-profits, and corporations across the country offer scholarships to help students pay for college. And the easiest way to search for these scholarships is often through an online platform.

There's many online scholarship search options out there, and each one offers something different. Bold.org, a streamlined, secure scholarship service, matches students to scholarships based on the student's profile. We interviewed Dror Liebenthal, Bold.org Cofounder & CEO, about why Bold.org is a great place for students to search for scholarships.

LP: What is Bold.org?

DL: Bold.org matches students to exclusive scholarships that can't be found anywhere else. The platform is totally free and streamlined, and we manage scholarships end to end so that students always know the status of their applications. We also enable anyone and any company to create a customized scholarship in minutes, so students constantly have new funding opportunities.

LP: What sets Bold.org apart from other online scholarship platforms?

DL: We focus on:
Trustworthiness (privacy & security)
Bold.org scholarships can only be found on Bold.org, which means that your chances of winning are higher than anywhere else.

If you find a scholarship on a large scholarship database (which is how most scholarship platforms work), how many other students do you think found that scholarship on the same database? How many students found the same scholarship on one of the half dozen other large scholarship databases? By focusing on exclusive scholarships, we maximize your chances of winning funding.

The Bold.org platform also invests heavily in privacy and security. We give you tight control over your profile privacy settings, and we clearly lay out our privacy policy and give you full control over your data. You will not be bombarded with promotions on Bold.org, which unfortunately is an issue for many scholarship sites. Finally, user experience is a priority on Bold.org. We believe in a completely transparent, streamlined experience for students.

When you join Bold.org, you'll create a profile that showcases your abilities to scholarship panels, and you'll apply to scholarships directly on the platform. You'll never have to answer repeat questions or deal with other sites or platforms, and you'll always have full transparency for your scholarship applications via your scholarship application dashboard. We'll remind you when your draft applications have upcoming deadlines, and we'll keep you informed each step of the way as scholarship panels review your applications and decide on a winner.

LP: How did Bold.org get started?

DL: We started Bold.org after personally experiencing both sides of the scholarship equation.

For students, finding and applying to scholarships is a fragmented and confusing experience with almost no transparency. You end up applying via dozens or hundreds of sites, with no clear idea whether your efforts are paying off.

For donors, creating, marketing, and operating a scholarship requires a lot of work. Many people who want to give back through scholarships are dissuaded by the lack of any easy, fast, customized solution for doing so.

We created Bold.org to solve this problem for both sides. Scholarships are a personal, high-impact form of philanthropy that ought to be easily available to everyone, every company and every student. That's what we're building.

LP: How can students apply for scholarships?

DL: As a student, you can apply for scholarships by creating your Bold.org profile.

LP: Can you provide an example of a past success story?

DL: Bold.org students are thoughtful, ambitious, and talented. They typically submit such great applications that the most common response from donors after speaking to finalists is:

"I don't know how to choose. Every student I interviewed was so deserving that I feel like I should award the scholarship to all of them. I'm amazed that I get to have so much impact and such a great experience for my donation."

We're proud of the experience we provide on Bold.org to both students and donors, and we're always looking for ways to continue to improve. If you have any ideas for us, please get in touch!
Sign Up for Emails
Sign up for relevant, helpful college planning emails.