College
How to Prepare for Study Abroad
If you're planning to study abroad next year, you'll want to check out the blog we published on scholarships specific to study abroad programs.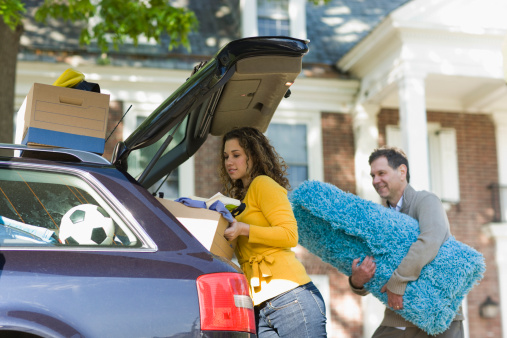 If you're planning to study abroad next year, you'll want to check out the blog we published on scholarships specific to study abroad programs. And while paying for study abroad is certainly a big challenge, there's also many other aspects to take care of before your plane takes off! Make sure you check all of these items off your to-do list prior to leaving the country:


 Talk to your academic advisor. As you make a plan to study abroad, you'll want to ensure that the classes and program you're considering fit within your larger college and career plan. The last thing you want is to return home only to find that the classes you took abroad won't transfer. Check in with your academic advisor to go over your course selection and see how it fits into your major requirements. Can a course taken abroad count towards your major requirements, or will these courses only count as electives? Will four classes at a foreign institution provide you with equivalent credits as taking four classes at your home institution? Will you be missing any mandatory classes while you're away, and if so, when will your school offer them again? These are all important things to sort out before you consider studying abroad.
Get a Passport and Visa. You'll likely need both to study abroad, so begin by checking in with your school and study abroad program to find out exactly what you need and how to go about getting it. While you may already have a passport, you'll want to make sure it doesn't expire anytime soon, and you remember to bring it to the airport. If you don't have one, you'll need to obtain one in order to leave the country. Passports routinely take 4 to 6 weeks from the time of the application, so you'll want to make sure you apply well in advance. You can expedite the service if necessary, but it's expensive and can be stressful if you wait until the last minute. As for a visa, you'll most likely be applying for a student visa. The rules for visas are different for each country, but most European countries require a visa for stays longer than 90 days, and most semesters run longer than that time. The application materials vary, but common items include a letter from your abroad institution on their own letterhead stating that they are sponsoring you and proof that you have a certain amount of money in the bank. It's also recommended that you bring a copy of both your visa and passport with you on the off chance they get lost or stolen.
Buy your plane ticket. Whether you will be living in a dorm, apartment, or homestay, find out what day you will be able to move in. Once you know that, you can purchase a plane ticket. You'll have to decide if you want to purchase a one-way or roundtrip ticket. Buying your return ticket ahead of time can save you the hassle of having to buy it later. The price might also go up the longer you wait. The downside of buying your return ticket right away is that you have no flexibility for plans changing. After spending some time abroad, many students decide they want stay and travel for a few extra days or weeks after the program ends. It's often very expensive to change an international ticket after you've purchased it, so if sticking around after your program sounds like something you might consider, it's probably best to hold off until you're positive of your return date.
Visit your bank. Your bank will want to know how long you will be abroad and what countries you will be visiting. If you don't share this information with your bank, they'll probably end up flagging your account for suspicious activity as soon as you use your credit or debit card abroad. Lots of banks will let you set a notification for your travel online, and if not, you can simply go to your bank in person. You'll also want to visit your bank so you can exchange currency. Most airports in foreign countries have a booth for currency exchange, but you'll get the best rate by using a bank in the U.S. Not all banks carry every type of currency, so make sure to call beforehand and check. If you live near a major city you should have no trouble finding a bank that carries euros, but if you live somewhere more rural, you might want to plan in advance in case you'll have to travel to make an exchange.
Figure out your phone plan. With all the progress we have made in technology, using phones internationally is still a hassle. If you have a smartphone, you'll be able to access the internet anywhere that has Wi-Fi. But you most likely won't have access to data abroad unless you're ready to pay the expensive fees that go along with it. The same goes for texting and calling. A friend I studied abroad with continued using his phone as if he was still at home and was stuck with a $300 phone bill from the first month. To avoid this, you have two options. You can continue using your phone and either add on a travel package from your provider or buy an international SIM card that's compatible with your phone. Or you can simply buy a new phone once you arrive at your destination. Buying a new phone might sound ridiculous, but it can sometimes be the cheapest and easiest option. You can usually purchase a flip phone, the kind without data or a full keyboard, for very little money. After that, you can pick a monthly plan or buy pay-as-you-go minutes for texting and calling. You might feel like you're living in 2005 again, but at least you won't be worried about accidentally incurring overage fees.
Pack. Packing is probably the last step you'll take before you leave. You'll want to pack clothes and shoes that are appropriate for the climate. Keep in mind that it's better to under pack than over pack, as airlines have weight restrictions on luggage and there's a good chance you'll be returning home with souvenirs taking up some extra room. Aside from clothes, make sure to pack an adapter. Most U.S. electronics are not designed to work with foreign outlets, so in order to charge your phone or curl your hair, you'll need an adapter. You also might want to pack some books or magazines if you like to read on trains or at airports. If your host country speaks another language, it can be difficult to get reading materials that are in English. It's also probably best to leave things like shampoo and body wash at home. They're inexpensive to buy once you're abroad, plus they're heavy and take up lots of room in your luggage.
These are just some things to consider when preparing to study abroad. It's always best to make your own personalized checklist as each person's needs differ. Once you have all the necessities out of the way, you can spend your energy focusing on the exciting parts of study abroad!
Sign Up for Emails
Sign up for relevant, helpful college planning emails.