Financial Aid
MASSAid Portal's New College Cost and Financial Aid Eligibility Information Tool
Learn about the College Cost and Financial Aid Eligibility Information Tool, located in the MASSAid Portal, that helps new financial aid filers learn their aid eligibility. Learn how to access the tool, tool features, and which aid eligibility is included.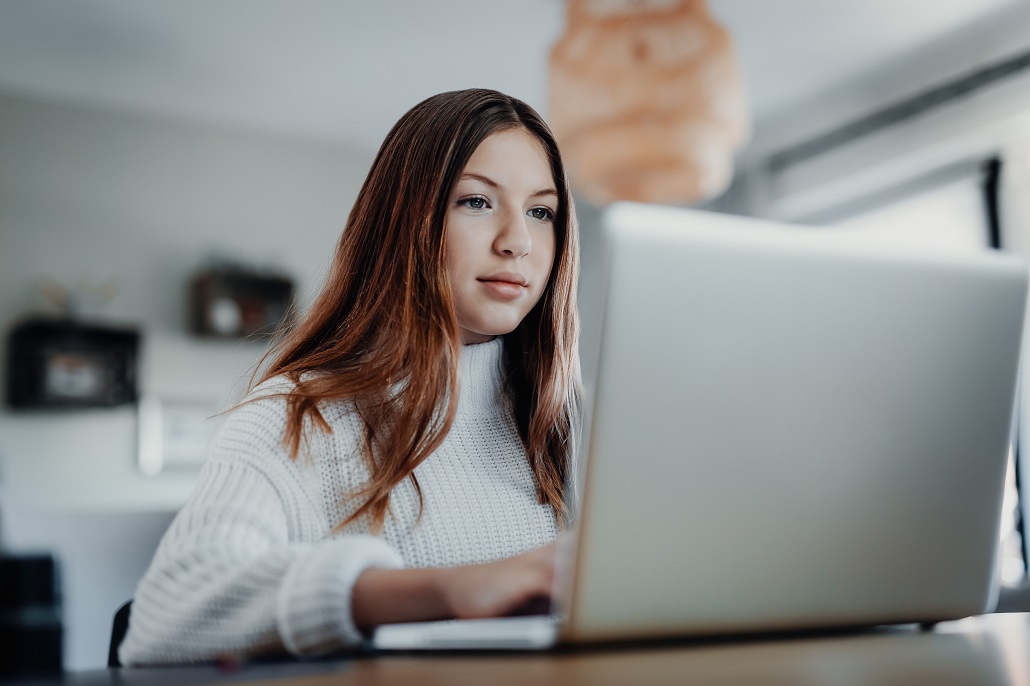 There's a new resource for Massachusetts students applying for college financial aid. It's called the College Cost and Financial Aid Eligibility Information Tool, and it's located in the MASSAid Portal, a resource managed by the Massachusetts Office of Student Financial Assistance (OSFA). The MASSAid Portal allows students to track their Massachusetts state financial aid, such as the MASSGrant. And the new tool within the portal helps new financial aid filers learn their aid eligibility. Here's how it works:
Once a Massachusetts resident submits a FAFSA for the first time, the student will receive a text message or an email from OSFA with a prompt to log in (if the student has an existing account, which most won't) or create a new account for the MASSAid Portal. Again, only first-time FAFSA filers will receive this prompt. And only students who have previously created a MASSAid Portal account and opted into text messages will receive a text. Everyone else will receive an email.
Once logged in, these first-time FAFSA filers will be able to access the new College Cost and Financial Aid Eligibility Information Tool. The tool will display the first four Massachusetts colleges and universities listed on the student's FAFSA, as well as their costs, as reported by Peterson's. This means the figures could be a year outdated. Students can change their view to see other MA schools using the drop-down menus.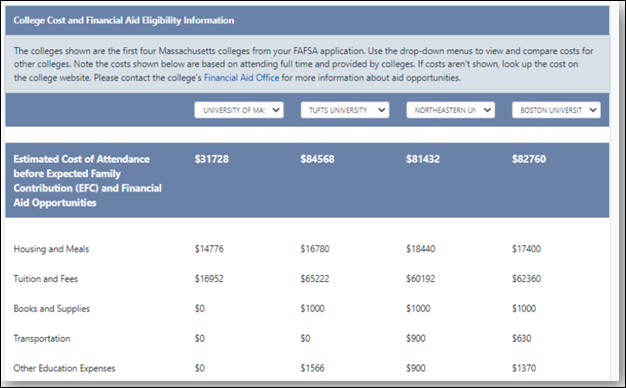 Next, students will be able to view their Expected Family Contribution (EFC) as calculated by the FAFSA. If students make changes to their FAFSA, those changes will be reflected in the tool within 72 hours.
The following section will show the student's estimated Federal Pell Grant. Note that only students with a relatively low EFC are eligible to receive a Pell Grant.
Finally, students will view information on their eligibility for 11 different Massachusetts state aid programs.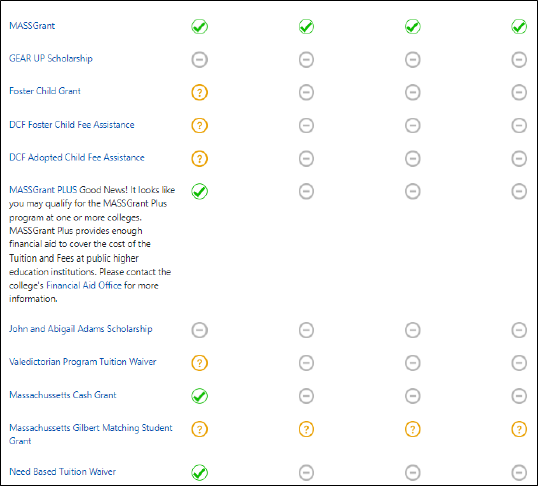 Students can click the name of each state aid program to learn more about each one's eligibility criteria and the application process, if any.
Students can select update your eligibility here to provide additional information to OSFA, which may help their eligibility for certain aid programs.
Keep in mind that this tool from OSFA shows estimated federal and state aid at Massachusetts colleges and universities. Students will have to wait until they receive their financial aid offers (and potentially also complete Verification) to find out their official financial aid. This tool also won't show any institutional aid awarded by the schools.
Another important note: OSFA will direct a student's Massachusetts state financial aid (if any) to the Massachusetts school listed first on the FAFSA. However once students know where they plan to attend college, they can easily log in to their MASSAid Portal and indicate the school that should be sent their Massachusetts aid.
If students have any questions about their data within the MASSAid Portal or this this new tool, they can reach out to OSFA using the contact information here. And for general questions about financial aid, students and families can reach out to us here at MEFA at (800) 449-MEFA (6332) and collegeplanning@mefa.org.
Sign Up for Emails
Sign up for relevant, helpful college planning emails.