College
Letting Go When Your Child Heads to College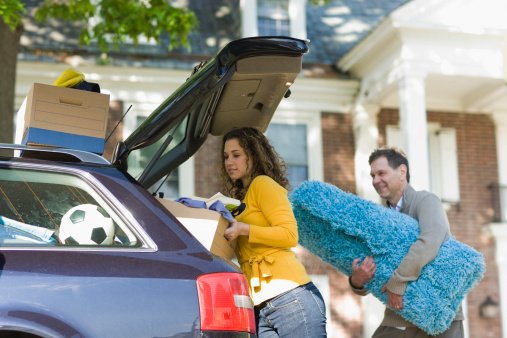 Wioletta Pawlowska has been a school counselor at Acton-Boxborough Regional High School for several years. We have relied on her expertise on several matters, such as the emotional issue in this blog post about letting go. Her words of wisdom and empathy have been helpful as we have sent our own children off to college, and we're happy to share her words and story here.

With a good number of counseling years under my professional "belt," and having sent off very many graduating seniors to embark on a two- or four-year college education, I thought I was well prepared to handle my own child's parting and going off to college. My innate optimism powered an extensive preparation for the inevitable. The checks on the "freshmen packing list" kept multiplying. I felt triumphant and beamed with pride walking out of Bed, Bath and Beyond, clenching a sturdy-looking shower caddy in my hand, a supposedly "hard-to-find" item off the list. I looked to my son's next four years of college level endeavors and our family's ability to negotiate the changed family dynamic with feelings of hope and pride.

However soon new feelings of sadness, anxiety, and reluctance crept in. There was no doubt this was a brand new situation that felt very unsettling. But we handled our heavy emotions of bringing our first-born to college with an irrevocable decision to be there for our son (and ourselves) by learning about his new campus environment and the many support systems available.

Our freshman was kept mercilessly busy during a multi-day Freshmen Orientation aimed at introducing new students to the resources, philosophy, rituals, and culture of their new campus. It strived to secure a tentative feeling of belonging to the place they were to call "home" for the next four years.

The parents of the brand new students were kept busy too. There was a myriad of sessions that introduced us to the resources of the college, addressing what parents could expect, offering plenty of reassurance, and encouraging the process of letting go. We all wanted to know that we were to leave our precious 18 or 19-year-old "cargo" in good hands. Gaining the knowledge of the campus security system, or the type of services that the Learning Center and Counseling Services offered, could be invaluable in fostering our children's independence later on, when those services would prove to be needed. Parents that understand the academic rigor of the college program and the relevant resources are better able to steer their student in the direction of obtaining help rather then offering their unsolicited advice to study harder.

Parents can also learn what it takes to access information about their student. They may want to ask if their student's grades will be sent home, or if they will be notified if their son/daughter is on academic probation. A few other questions worth asking may be if they will hear if their student gets into trouble with alcohol, or who they should call if they think their child needs mental health support due to depression or anxiety.

Regardless of whether the student's parents actually attend orientation sessions on campus, they all have access to vast information on campus services and academic programs through handbooks often mailed home ahead of the Freshmen Orientation. There are special parent web pages or electronic newsletters that might prove themselves useful when least expected. Even if never used, most parents feel more secure knowing where to turn for help when needed.

As for the final parting with our son, we left his campus teary-eyed, feeling an empty pit in our stomachs and a strong desire to reason through conflicting emotions. We clenched the copies of handouts that had a sea of tips on how to handle separation and letting go… Here are a few:


Trust that you have given your child the roots to grow and the wings to fly.
Remind your student that the door to your home is always open.
Even though your student is now in college, he/she still needs and wants your opinions.
It's normal for your own emotions to go up and down during this time.
Remember that your child's siblings are also experiencing transitional feelings and may need you to understand what they're going through.
Remind yourself that if your student doesn't call home often, that might just mean that he/she is busy, not that he/she has forgotten about you. Sometimes no news is good news.
Don't jump to the rescue the minute your student calls saying he/she hates it at school. A call the next week might be the complete opposite, telling you he/she loves it there and can't imagine being anywhere else.
Remember that you've worked hard raising your child to get to this point in his/her life. So, now would be a good time to give yourself some TLC as well.
(Outsourced from the University Counseling Center, URochester)


Sign Up for Emails
Sign up for relevant, helpful college planning emails.