MEFA Pathway
Learn About MEFA Pathway
Learn about MEFA Pathway, a college and career planning site that provides fun and engaging tools to help MA students plan for academic and career success.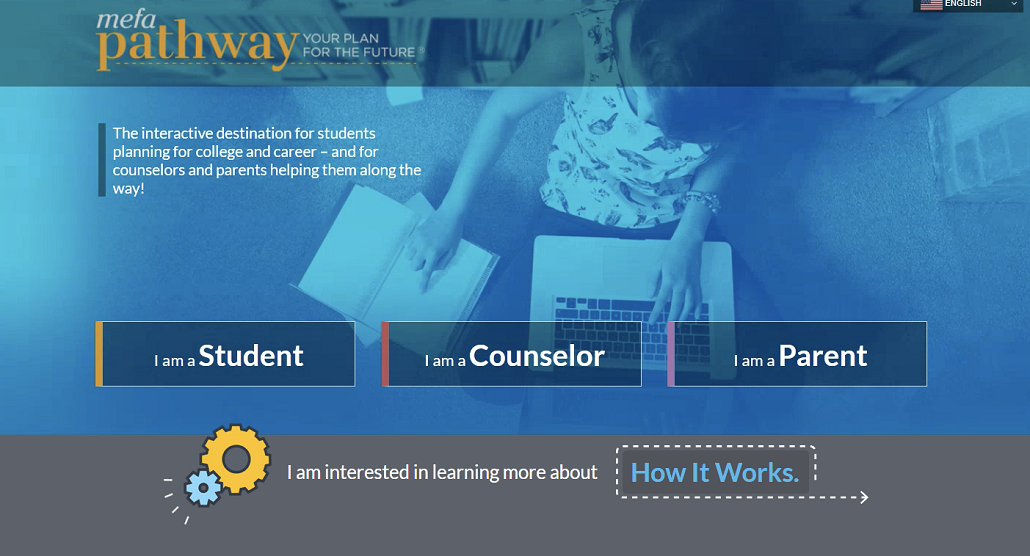 Have you visited MEFA Pathway? The site is located at mefapathway.org and provides a fun and engaging environment for MA students to plan for academic and career success. The tool is interactive, colorful, and intuitive with clear instructions that lead students to develop a path through high school and beyond. Counselors can log in to track and guide students as they plan, and we encourage parents to sit with their children to experience all that MEFA Pathway has to offer.
How it works
MEFA Pathway is available for use on desktops and tablets, and is optimized for mobile readability. MEFA Pathway offers several benefits and features including:
Engaging assessments to help students discover their interests, skills, and values
Information on a wide range of careers, and the ability for students to match personal skills with specific jobs
A sophisticated college search tool, allowing students to compare the attributes of each school against one another
A college application manager, helping students to stay organized and on top of deadlines
Calculators to assist families as they prepare for college costs
A scholarship search engine and organizational tool to keep students on track with each scholarship's deadline and status
A customized resume builder to record career objectives, academics and activities, and work experience
A digital portfolio to provide students a visual library of their personalized plan for the future
Watch our "How it Works" video to get a quick overview of the features that MEFA Pathway has to offer. Any Massachusetts student can create an account and instantly gain access to MEFA Pathway's valuable information and tools. To register, students can visit mefapathway.org, click I am a Student, and then select Register Here. Students will then be well on their way to setting the groundwork to a college and career pathway.
Sign Up for Emails
Sign up for relevant, helpful college planning emails.