Admissions
How Did You Make Your College Decision?
In honor of College Decision Day, MEFA staff members shared how they made their final decision of where to attend college and the factors that contributed to that decision, including cost, location, programs offered, and campus size.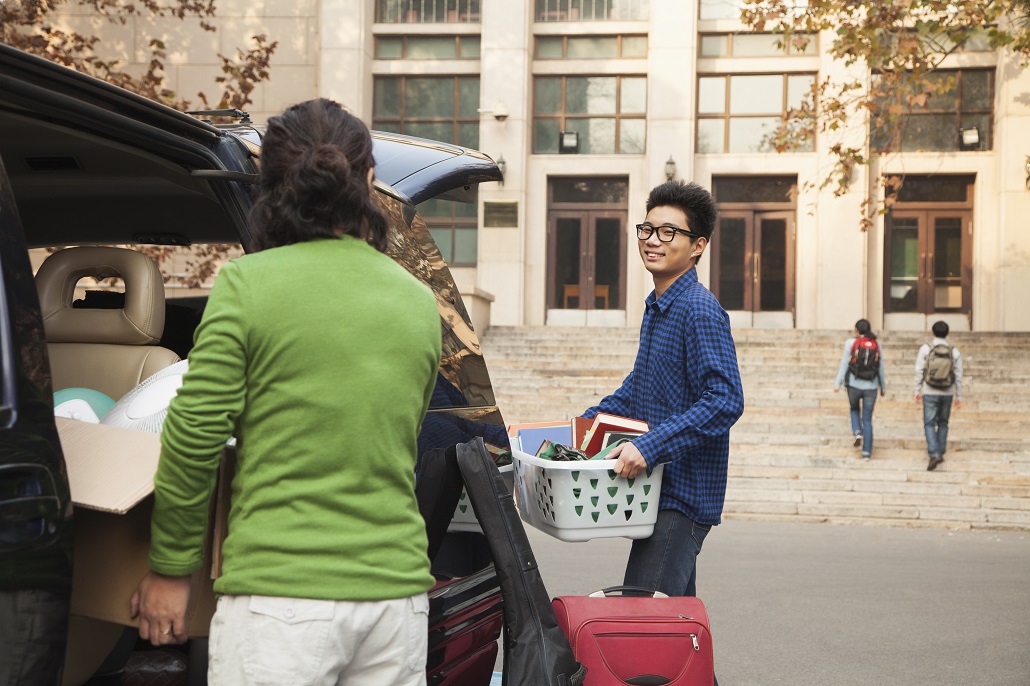 MEFA is an organization dedicated to helping families plan, save, and pay for college. And, when May 1st comes around each year, we know that families with high school seniors are making important decisions: where to attend college next year. For those students who are headed to a two or four college or university in the fall, May 1st, officially College Signing Day, is momentous.

While we celebrate all those who are heading to college in the fall, we also recognize that college isn't the right choice for everyone. Whether you're pursuing a training or certificate program, transitioning right into the workforce after high school, or considering a career in the military, the decisions you've made are exciting as you shape your pathway to post-secondary success.

As part of Reach Higher's national initiative to celebrate College Signing Day, we asked members of our MEFA team how they made their own college decisions. You'll find diverse and interesting stories below, including the unique journeys traveled and the all-important college affordability considerations. 
How did you make your college decision?
Lauren, Emmanuel College

"I transferred to my school half way through my freshmen year. The school I had originally attended ended up not being a fit for me – it was huge and in the middle of nowhere. I chose to transfer to Emmanuel because it was small and located in the city. It was much more my style, and I ended up loving it there."

Lori, University of Vermont

"UVM was my 5th choice school. I was rejected from my top 2 choices, my 3rd choice didn't have housing for me, and my 4th choice was in a very urban setting where when on tour, my father said "my little girl isn't going somewhere where they have to focus on the blue emergency call boxes." So common today and most parents would find that comforting; back in the day, not so much. UVM ended up being an incredible 4 years, where I got a great education in and out of the classroom."

Meredith, University of Virginia

"I grew up in Virginia and my mom told us we could only apply to public schools in our home state. I decided on UVA because it seemed like a fit academically, had good sports teams, was a big enough size, and had a pretty campus."

Lisa, Framingham State University

"My college decision is a bit unique. When applying, my parents didn't disclose with me any barriers to where I might or might not be able to attend due to cost, so I applied to a few private colleges across the Massachusetts and Rhode Island that appealed to me based on size, class and campus offerings, and to two state colleges as "safety schools". When acceptance letters and financial aid offers began to roll in, my parents gave me the choice – that I could attend a more expensive option and be faced with a lot of debt, or attend one of the state colleges – I'd still need to take some loans, but in a much lesser capacity.  I decided to attend Worcester State because I had a friend who was also attending, with the hope of taking advantage of the Worcester Consortium, where I could attend classes at some of the other schools in the city. However, after a year at WSC, I decided the campus wasn't for me. I decided that I wanted to try to get involved in Radiology. I moved home, and transferred to a community college for a year to complete pre requisites to try and get into a very niche program that at the time wasn't offered nearly anywhere. Unfortunately, at the time, that program was very selective and accepted only 9 people into the program each year strictly on a lottery basis – and I was impatient and didn't want to wait. I made a hard and fast decision to go to URI because my best friend went there, and it was an easy transfer from the CC and Worcester State (I wouldn't lose any credits and would be on track to graduate in 4 years). Cost was not a factor for me at this point – I just wanted to have a better college experience and didn't want to graduate too far behind my peers. Unfortunately, I found it difficult to get immersed into the university culture because I didn't live there full time – I just slept on my friend's floor at the house she rented. My classes were bigger than I would have liked, and I didn't feel like I was getting a "better" education than anywhere else, so I decided that after a semester I didn't want to spend two more years paying the tuition. I met with someone at Framingham State, and was able to build a plan to graduate with the Corporate Communications major only one semester behind – it met my financial needs, my culture needs, and I got a great final few semesters of a college experience."

Julie, University of Massachusetts Amherst

"I chose UMass Amherst because I got into the business school and because I liked the size. I wasn't sure exactly what I wanted to do after graduation but knew that I would have many opportunities.  I loved living in the 5 college area, and I still love it every time I visit!"

A.J., Northeastern University

"I chose Northeastern University based on their excellent co-op program, which provides real-world experiences to students, and because it was a commuter school so I was able to save some money commuting to school instead of having dorm expenses. And having freshman year tuition waived was definitely a plus."

Ajea, Lasell College

"I chose Lasell College based off an interaction I had with a professor on campus. Prior to finalizing my decision, I had visited orientation at Lasell College. I remember sitting in the auditorium at a table with three professors in the Communication major – one of the three was a Journalism professor as well as EIC of Lasell's campus newspaper. She asked me my name, what I wanted to do, what my hopes were, etc. She even told me that she would take me under wing and really guide and support me – because she knew I was a shining star. She told me that at Lasell, I would excel. And I did. Fast forward a few months later, my mom and I went back to Lasell to give the campus one last walk around. I remember walking up a pathway to the dining hall and hearing someone on the other side, calling my name! I turned around and it was the same professor that I had met and spoken to months prior at orientation. Not only did she remember my name, but she remembered everything we talked about! It was in that very moment that I knew Lasell was right for me. I knew that I could not get that kind of relationship anywhere else. She really believed in me, and that meant more than I could ask. I'm so blessed because this professor is someone that still knows my name and whom I call one of my greatest mentors."

Jonathan, Assumption College

"I attended Assumption College.  For me, the decision boiled down to two things: fit, that is the sense I could succeed based on my visiting the campus, and meeting the people and academic offerings.  Although I attended college undecided, I knew Assumption offered a number of programs that I found interesting."

Shari, University of Massachusetts Amherst

"The only school I applied to was UMass Amherst, and I was accepted. The school had my intended major (journalism at the time). I also liked that it was like a city in the country, it was far enough away that I could live on campus but close enough to go home easily, and my parents agreed on the school."

Stephanie, Bridgewater State University

"As a first-generation college student, the youngest of eight and the first in my family to graduate from college, I was pretty much on my own figuring out my college path. I always knew I would go to college but had no guidance on how to get there so I started out at Mount Wachusett Community College for my first year. It was a great way to get some credits under my belt before transferring to Westfield State. Eventually I transferred again and graduated with a BS in Speech Communications from Bridgewater State College. With no family support to pay for college, the public college system in MA was the only option I could afford and a great way to get an excellent education."

Penny, Clark University

"As a first-generation student, getting the opportunity to go to college was step 1, let alone being able to decide among great schools. My parents wanted me to stay near home since they had never gone to college and experienced what it would be like. I attended Clark University in Worcester and it was the best decision for me to go there. The population was diverse, the academics were strong, and I was challenged in many ways. Going to college was a privilege for me and an honor for my family."

Craig, Northeastern University

"I attended Northeastern University. It came down to NU and a few schools before I ultimately made my decision. I decided that I would rather attend college in an urban city setting (being close to Fenway park didn't hurt either…). Two other major deciding factors for Northeastern were the school's great co-operative education program and of course, the amount of financial aid I received."

Shaun, Bridgewater State University

"My mom wouldn't let me go to Emerson, my dream school, because we couldn't afford it. So I picked Bridgewater as that was the one we could afford."

Dan, Johnson and Wales University

"First, I went to a couple of different colleges because I had a few careers. One as a chef and another as a computer programmer. Choosing my college to train as a chef was easy because there were really only two I was interested in…The Culinary Institute of New York or Johnson and Wales. The Connecticut Chef's then offered me a scholarship to attend Johnson and Wales so off I went. Choosing my college to train as a programmer was also pretty easy. I needed to find a school that had a short curriculum and was within commuting distance to my home in CT. I chose the Computer Processing Institute in Hartford, CT. They had a one-year intensive program and a great placement service. It worked out because they helped me land a job as a programmer at one of the fastest growing software companies at the time."

Mary, Emerson College

"I was really unsure of what I wanted to major in after high school and explored a few majors like management and transferring to pharmacy school, specifically at the University of Rhode Island in Kingston. I went to Suffolk University after high school and then ultimately went to Emerson after deciding I really liked communications and they have such a strong program. I majored in PR and communication studies and loved the urban city campus, Boston Public Garden, and the old brownstone buildings that we had classes in."

Jonathan, Emerson College

"Emerson had a great film program, and I really wanted to be in a city where there were other things to do outside the school. I also didn't want to be that far away from home."

Steve, Brandies University

"Brandies recruited me to play soccer. They gave me a soccer scholarship, so that was what really made my decision"

Pat, Auburn University

"I didn't want to attend a college where I would constantly be running into people form high school, I really wanted to get away from home and explore. I also saw Cam Newton play his first game at Auburn, so I had a great experience on my college visit."

James, Northeastern University

"Cost was the biggest factor me, along with the reputation of the program I wanted to enroll in."

Kelly, Bryant University

"I knew I wanted to do accounting, and Bryant had a great accounting program. It was small institution and was near home, so I had always thought I might want to go there."

Frank, Babson College

"I never even visited my school before I enrolled. I had a friend whose sister went there and liked it, so I thought I would too. I had taken the trolley throughout middle and high school, so I also wanted a campus I could drive too. I have three daughters, and they all chose their schools based on different factors. My oldest daughter wanted to attend the most competitive school she could get into, and chose Tufts University. My middle daughter wanted a school that valued arts and music and chose Connecticut College. My youngest daughter valued a small community feel to the campus and chose Framingham State University."

Zarah, Northeastern University

"I was drawn to Northeastern University because of their co-op program. However, my parents didn't have the money to send me there. So I attended SUNY while working and saving money, and then transferred to Northeastern later on. My advice to families would be to consider the cost and be realistic about what you can afford. My parents did not communicate to me what our family's financial situation was, and it would have been smoother if they had just been up front about it."

Meg, Denison University

"I wanted to go to a small, liberal arts college. I wasn't really sure what I wanted to do, so I thought this would let me explore my options. I also wanted a school where I could play field hockey."

Greg, University of Massachusetts Boston

"I started at a community college because I was paying my own way. After I got my associates degree, I transferred to UMass Boston, as that was the cheapest option for me. I actually found it easy to matriculate from a community college. I had good professors that wrote me letters of recommendation. I definitely think there can still be stigma around students who explore community college, which is a shame, because it can be a great resource."

Peggy, Boston Business School

"I graduated from high school many years ago, when more people took the Commercial Course rather than the College Course. I took the Commercial Course and worked for many years as a professional singer and dancer. After my children were born, I decide to go to work days and get an office job. I attended and graduated from a 3-year program at the prestigious Boston Business School."

Rob, Bentley University

"I wasn't entirely sure what I wanted to do after high school, but I thought studying business would be able to provide me with a stable job. Bentley had a good business program and they offered me the most money, so I chose it."

Jennifer Bento-Pinyoun

"After participating in a number of campus visits during his junior year, my son Raiden decided that attending college immediately following high school may not be the best choice for him. He will graduate high school next month, and this fall, he will continue employment at a screen printing company that will allow him to continue to develop the skills that will lead to further enhancement of his clothing and album cover designs. Come January 2020, Raiden is interested in participating in an abroad program to experience a culture different than ours with the goal of gaining knowledge and independence and applying that to future endeavors."
Sign Up for Emails
Sign up for relevant, helpful college planning emails.