Financial Aid
Financial Aid for International Students
We explain how international students can complete the FAFSA and CSS Profile, where they can search for scholarships, which loan options are available to them, and what type of schools can provide the most financial aid for them.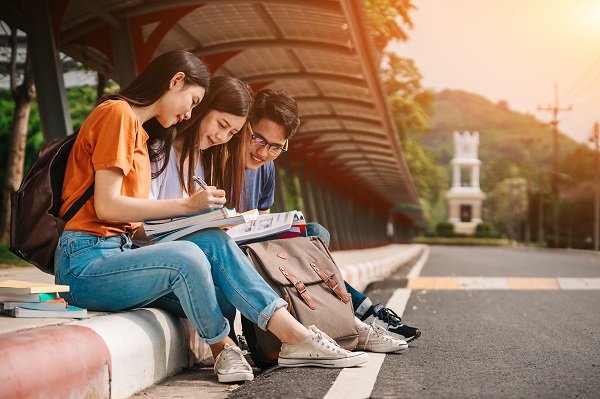 Financial aid is tricky to navigate no matter what. But for international students attending a university in the United States, it can sometimes be even more difficult. Financial aid for international students can be very limited. Most grants, scholarships, and loans from public and private sources are restricted to U.S. citizens. But that doesn't mean help for international students is nonexistent! There are still ways an international student can receive financial aid in the U.S.
The FAFSA®
Non-international (domestic) students submit The Free Application for Federal Student Aid (FAFSA) in order to apply for U.S. government financial aid, such as the Federal Direct Loan, the Pell Grant, and federal work-study. International students are not eligible for these programs, so they usually don't need to complete the FAFSA. Occasionally, a college or univeristy may ask international students to submit a FAFSA so that they can use the information to assess financial need and award their own school-specific grants and scholarships.

A Social Security number is needed in order to submit a FAFSA. Some international students may be able to receive a Social Security number, even though they are not citizens, depending on their visa. If so, students can submit their FAFSA using this number and simply answer "No" to the FAFSA question asking if the individual is a U.S. citizen. The federal government will "reject" the FAFSA, but the data can still be used by a financial aid office to award school-specific funds. Even if a student is unable to receive a Social Security number, there is often still an option. Some schools will allow a student to submit the FAFSA directly to the school, not the federal government, which eliminates the need for a Social Security number.
A college's financial aid webpage will provide instructions for international students in this process of submitting the FAFSA. Reference that webpage for guidance.
The CSS Profile
Colleges and universities may also require international students to submit the CSS ProfileTM, a financial aid application used by roughly 200 schools across the country. The CSS Profile is designed for both domestic and international students, and even includes special instructions for international applicants. Schools use the information on the CSS Profile to determine financial need and award school-specific grants and scholarships.
Scholarships
Aside from need-based financial aid offered by the college or university, there is also the option of private scholarships. Many scholarships that originate from the U.S. are limited to U.S. citizens, but there are some international organizations that offer funds specifically to international students. A student's home country may also prove to be a good source of funding. Students should check with their country's department of education and U.S.-based embassy to see if they offer any scholarships.
Loans
Some international students may need to borrow a student loan. Some U.S. banks will offer student loans to international students if the loan is co-borrowed by a U.S. citizen. There is also a limited number of organizations that will provide loans to international students even without a U.S. co-borrower. College financial aid offices can provide further information if they have a lender that they recommend for international students.
Data
When it comes to financial aid, it's important to remember that amount given to students varies for each school. This is especially true when it comes to international students. According to data collected by the College Board's Annual Survey of Colleges, international students at private non-profits are more likely than students at other institution types to receive institutional financial aid. In addition to this, top tier colleges also have the largest pool of money to give from, and will often give generous financial aid packages to students, regardless of where the student is from. At Harvard, for example, international students are eligible for the same amount of aid as U.S. students, and the application process is essentially the same. And Yale extends their need-blind admissions policy to international students in order to remain accessible to candidates from any part of the world.

If you're an international student, applying for financial aid might require some additional work, but the potential money saved will be well worth the time spent. Apply for financial aid, look for scholarships, and explore loan options. If you need additional assistance, your school's financial aid office is the best place to ask. We're also available at MEFA with any questions you might have. We can be reached at collegeplanning@mefa.org or (800) 449-MEFA (6332).
Sign Up for Emails
Sign up for relevant, helpful college planning emails.