Types and Sources of Financial Aid
Below is a sample financial aid offer, which includes the following types and sources of aid. You can read more about the different categories of financial aid here.
Grants/Scholarships: These are "gift aid" or free funds, which means that you don't have to repay them. Your offer may include grants and scholarships from the federal government, your state government, or the college itself.
Federal Work-Study: These are funds that are available for you to earn during the academic year through part-time employment.
Student Loans: These are funds that you borrow, to be repaid after you leave school. Your offer may include several types of loans with varying features.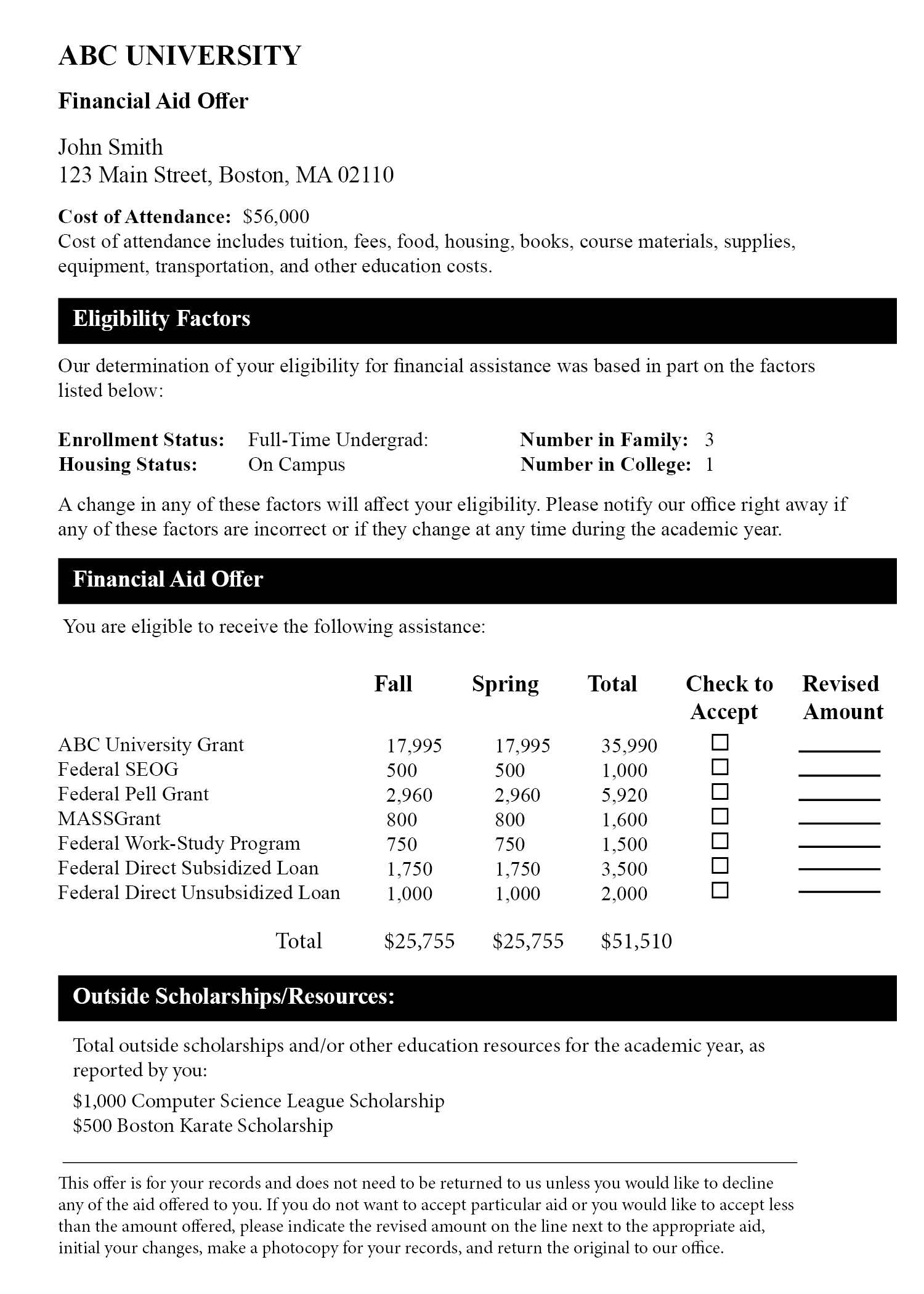 Other Important Information
As you review your offer, keep in mind that:
Your financial aid will be divided between the fall and spring semesters.
The offer may not list the school's total Cost of Attendance (COA).
The offer may not indicate your remaining balance after the aid is applied (also called the "net price").
You may need to take action to accept the offer, such as sign and return the offer or accept the offer online.
You are permitted to decline parts of the offer, such as a loan.
If you have special circumstances that you think warrants you to receive additional financial aid, contact the college's financial aid office. You may be able to submit additional information and documentation to be considered for greater financial aid (often called the "appeal process"). Reasons to submit an appeal may include:
A recent job loss or reduction in income
Unusual medical, dental, or disability expenses
Nursing home or unusually high childcare costs
Home damage caused by natural disaster
The appeal process can vary from college to college, so be sure to follow the instructions provided by each financial aid office.
Join our Community
Sign up for relevant, helpful college planning emails.