College Savings
Wisdom and Insight from Our U.Fund Dreams Tour Partners
Tips from our partners include creative ideas that can help your child earn money, gardening tips, ideas on how to save during back-to-school season, tips on encouraging college gifting from family and friends, and inexpensive ways to spend time with family.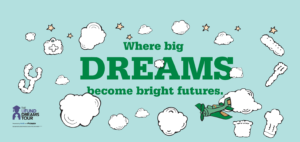 What's a fun activity to help both you and your child dream about the future? Try stopping by the U.Fund Dreams Tour tent at a community event near you. The U.Fund Dreams Tour provides props and prompting to encourage your child to imagine a future career, while informative materials and conversations with Fidelity representatives can help you strategize your college savings. It's an event for the whole family, and you'll see it popping up again on our events calendar in the spring.

We have partners across Massachusetts that help us promote the U.Fund Dreams Tour, and their blog posts also provide great tips and advice on parenting, finances, and other helpful lifestyle topics. We've listed below a re-cap of published posts from this year. Click on the links below to gain insight into affordable family activities, back-to-school savings, and more. And don't forget to come see us at a U.Fund Dreams Tour tent in your community in 2020!

7 Ways Kids of All Ages Can Earn Money This Summer

By Tamara Bowman

Explore some creative ideas that can help your child earn money in fun and feasible ways.

7 Things To Know About 529 Plans

By Christine Koh

Don't miss this interview with MEFA's Director of College Planning to learn all the insider knowledge about 529 college savings plans.

Boo At the Zoo + U.Fund College Savings Plan

By Alyssa Loring

One mom shares why she's prioritizing saving for college, and how she's encouraging college gifting from family and friends to help her savings grow.

15 Fun and Cheap Family Activities!

By Lisa Santangelo

Want to spend time with your family without breaking the bank? This list has 15 different and fun ideas.
Sign Up for Emails
Sign up for relevant, helpful college planning emails.